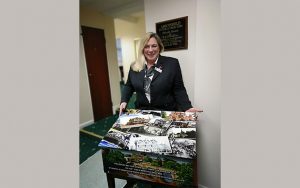 A time capsule containing memories of modern-day Hereford and its recent past has been handed over to the town's Light Infantry Museum for safe keeping until the 150th anniversary of the Armistice in 2068.
The idea for the time capsule came from Funeral Arranger Jacqui Williams of Abbotsfield Funeral Directors in Hereford, who collected memorabilia from local organisations, businesses, schools and care homes.
Jacqui presented the time capsule on 8th February – in a special casket decorated with images of Hereford – to Andy Taylor OBE DL, Rifles County Colonel of Herefordshire and curator of the Light Infantry Museum in Harold Street. The handover was attended by Herefordshire Councillor Chris Chappell, and Liberal Democrat Lucy Hurds.
Col Taylor said the museum would take care of the time capsule for 50 years, with it due to be re-opened to mark the 150th anniversary of the Armistice, helping people to remember the First World War and other conflicts.