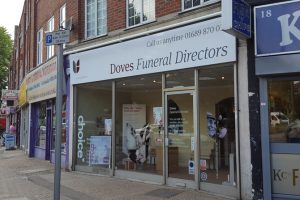 Our funeral teams in South East London teamed up with the Cray Valley Benefice on Mother's Day, to remember mothers who are no longer with us.
After the success of the 2016 remembrance balloon release, Funeral Arrangers Liz Sargent and Rachel Donoghue organised another this year to bring the Swanley and Orpington communities together.
After the balloon release, people were invited to enjoy a lunch of soup, bread rolls and cakes in St Andrew's Hall.
Liz said: "It was wonderful to be able to bring everyone together. Rachel bought everything we needed and helped with the balloons and I made some small wooden hearts on ribbons to give to everyone who attended, so they had something to take away and remember their lovely mums.
"There was a mix of Doves, Steven Mears and Bexley Funeral Directors at the balloon release, so it was great that we were all in this together. I hope to do the same next year!"