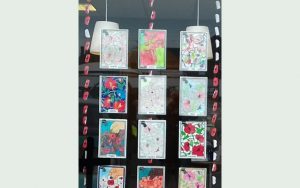 Funeral Arranger Gill Silsbury from B Matthews Funeral Directors wanted to create a different tribute for Remembrance Day so in conjunction with St Marks Primary School she honoured all our past heroes with a unique window display.
After approaching the Headmistress of St Marks with her proposal every child in the school along with a brief history lesson on Remembrance was offered the chance to colour a picture and enter the competition to win some art related prizes.
There were over 150 entries with the best forming the centre piece of the B Matthews display. All the entries were truly amazing and choosing the winner was a really difficult task, well done and thank you to all the staff and children at St Marks Primary School for their help and support in creating a truly unique and fitting tribute.