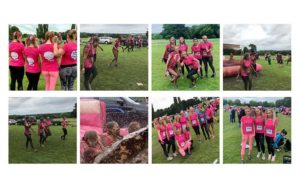 On Saturday 13 July, Funeral Arranger Nicolle Smith laced up her running shoes and ran the Cancer Research Race for Life Pretty Muddy 5k at Heaton Park in Manchester.
Race for Life Pretty Muddy 5k is a muddy obstacle course that participants crawl, climb and slide through and includes an A-frame, mud pit, spiders web and not forgetting the mud slide finale!.
Nicolle and her friends went the distance in memory of her best friends mum who sadly passed away from cancer in 2015.
Nicolle said: "The hardest obstacles were the cargo nets, we had to crawl through puddles of muddy water while staff threw buckets of water over us. It was so much fun!
The atmosphere was fantastic and everyone pulled together for such a great cause ,the crowds were watching and laughing cheering us on. It means a lot to me and my friends as so many people are affected by cancer and most families have lost someone due to this so to be a part of the day was really rewarding
We are hoping to plan something else but we will definitely be taking part in Pretty Muddy annually from now on."
A total of £500 was raised for the charity and their life-saving research. Every two minutes, someone in the UK is diagnosed with cancer. Events like this and people like Nicolle are what helps them continue their ground-breaking work finding new ways to prevent, diagnose and treat cancer to see more people surviving.