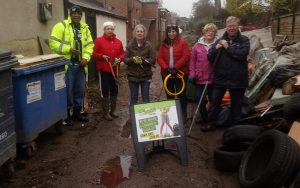 Funeral Arranger Karen Rattigan decided to wage war on the litter blighting the street outside her branch, and with the support of local residents did just that.
After a long day of back breaking work the team had taken a forgotten and messy area and restored it to one the residents can be proud of.
Karen said "As this is the starting route for many of our families final journey it didn't seem right for it to be such a mess, I am so proud of my community for coming out and helping create something we can all be proud of"
A big thank you to Croydon Borough Council for providing the equipment and method for disposal and all the residents from the local community who came out volunteered their time.