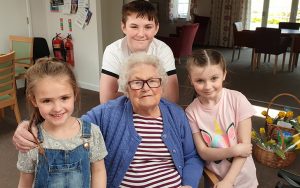 On Saturday 30th March a team from Daren Persson Funeral Services which included some very special helpers  visited a local residential home to hand out Daffodils and homemade cards.
The gift-givers visited Rudyerd Court in North Shields but were able to surprise ladies walking past the funeral home first with one of the children handing out flowers.
The extra special helpers were Jake and Grace the Grandchildren of Funeral administrator Suzanne Bremner and Grace's school friend Daisy.
Suzanne said: 'Everyone was so happy, they are still talking about it. I was even asked what we are doing for Father's Day! On the way home one of the children stopped a lady to wish her a Happy Mother's Day said he was sorry there were no flowers left but gave her a card. Made her day!'
The crafty team already have plans afoot for their next project with a craft day at the care home involving the children to make Christmas Cards which will be sold to raise money for charity.