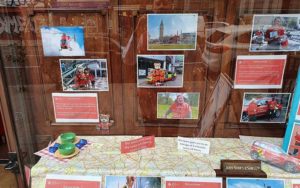 Here is our North Kensington branch window dressed to show support and raise awareness for the London Air Ambulance Charity.
London's Air Ambulance delivers an advanced trauma team to London's most seriously injured patients, performing innovative and potentially life-saving procedures usually found in the emergency department, on-scene. The team, consisting of an advanced trauma doctor, paramedic and consultant on most missions, can perform treatments such as open heart surgery, blood transfusions and general anaesthetic by the roadside. Last year 1,656 patients were treated.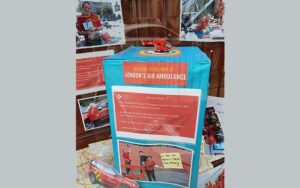 The charity relies on public donations and fundraising, with supporters of the charity providing the majority of donations. There is some funding from NHS Partners The London Ambulance Service and Barts Health NHS Trust but the majority of our service's running costs are funded by supporters.
Funeral Director Robin Taylor-Jones said:" It's such a worthy cause and we have seen the team out on three separate occasions locally they really are amazing."
The 10 million people that live work and travel within the M25 are certainly in safe hands as long as these helicopters remain in the sky.