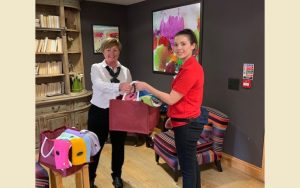 A group of knitters from St Thomas church in Lymington very kindly knitted 24 twiddle muffs for the branch to take to Linden House Dementia Care Home.
Twiddle Muffs are hand warming devices with different and unique sensory experiences that are designed to help people living with Alzheimer's or Dementia as they often have restless hands.
They can help to reduce anxiety and promote calm whilst providing sensory stimulation through the appendages including ribbons, buttons or beads which can be sown on.
Thank you to all those who knitted, we are sure this gesture has been gratefully received by the residents at Linden House.