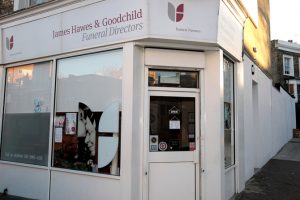 Funeral Arrangers Kevin Avery and Pat Miller from James Hawes and Goodchild Funeral Directors in Hackney have been busy raising more money for charity.
They joined the world's biggest coffee morning on 29 September to raise money for Macmillan, a charity that provides individuals and families who have been affected by cancer with a constant source of free advice and support.
Andrew Detenon and his family, who frequently support the branch's fundraising events, baked a wonderful cake, which was added to the spread put on by Kevin and Pat.
Hackney locals and staff from nearby businesses popped in to the branch to enjoy a cuppa and a slice (or two) of cake, which raised a total of £51 for Macmillan.
Kevin said: "The morning was such a good laugh and we want to thank everyone who donated. Both Pat and I really enjoy raising money for charity whenever we can, and as Macmillan's work is so important to many of the people we meet, we really wanted to do our bit and join in with the world's biggest coffee morning."