Funeral Partners funeral homes in every region of England, Scotland and Northern Ireland created beautiful Christmas window displays as part of a competition to spread the theme of hope and joy in their local communities.
Community & Communications Manager Gemma Taylor and Marketing Manager Beverley Brown judged first, second and third place in each region, which contain more than 200 Funeral Partners funeral homes combined.
Gemma said: "We received some incredible entries this year which made it really hard to choose, but I think we settled on well-deserved winners.
"It's a testament to not only the creativity of our funeral teams but also their drive to brighten up their local communities with the theme of hope and joy while many families who have lost loved ones struggle this Christmas."
First place was awarded to Melia Powell Funeral Services in Keighley, West Yorkshire; Walker & Morrell Funeral Directors in Washington, Tyne & Wear; Roy Quinton Funeral Directors in Tettenhall Wood, Wolverhampton; WH Putnam Funeral Directors in Harrow, North London; Doves Funeral Directors in Bromley, Kent; Douglas Mercer & Son Funeral Directors in St-Leonards-on-Sea, East Sussex; J H Way Funeral Services in Dawlish, Devon; and Shields of Donaghadee Funeral Directors in Donaghadee, Northern Ireland.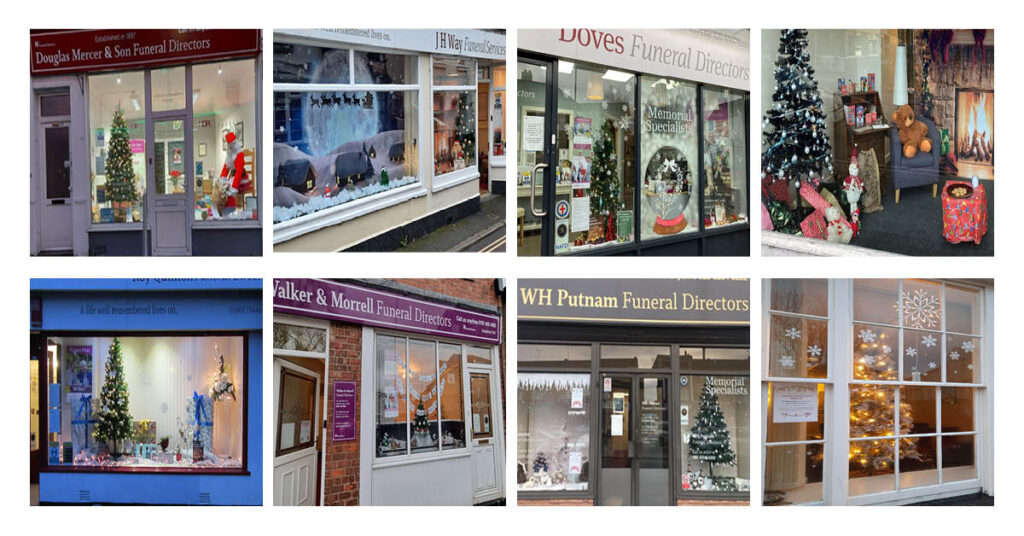 Gemma said: "Each winning branch has received a £50 One4all voucher, with the runners-up being awarded with £20 vouchers and £10 vouchers going to those in third place."
Funeral homes worked closely with their local communities to design and create their window displays in the theme of hope and joy.
Shields of Donaghadee decided to send a tag to each family under their care who has lost someone in the last 12 months so they could write down the name of their loved ones and hang it on the funeral home's Christmas tree in remembrance.
In the North of England, Melia Powell utilised their window displays to appeal for pyjama donations for underprivileged children around Christmas, as well as selection boxes for Leeds Children's Hospital.
Gemma concluded: "It's always uplifting to see our funeral homes going the extra mile, and we look forward to continuing to support local communities through a range of initiatives in the new year."