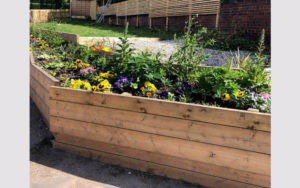 An unloved and uncared for patch of land directly opposite the branch has been transformed thanks to the hard work and dedication of Funeral Director Yvonne Holden and her neighbours on Manchester Road.
Spearheaded by Yvonne's branch neighbour Sammy, the owner of the land was asked if it could be made a little greener and after subsequent calls to Rochdale Council and school meetings the plans were approved.
Yvonne said: "The area is coming on so well now thanks to the generosity of others. I myself have donated flowers which have added colour and vibrancy to the raised flower beds, paint for the wood was kindly donated by Robert Nuttall Funeral Directors. There have also been donations from the children at Brimrod primary school and a local wood yard has donated all the wood for new fencing. We now have an area which we can all be proud of that the local school children can admire on their way into school."
The site has become a haven for wildlife, attracting bees and butterflies and there has been a visible reduction in litter. Yvonne would like to thank everyone who has supported the project including Sammy's Father who made the raised flower beds, and to those who continue to support the project going-forward. A wooden plaque will be unveiled so that the residents of Manchester Road will know who was behind the regeneration of this forgotten area which will hopefully be enjoyed by many future generations.