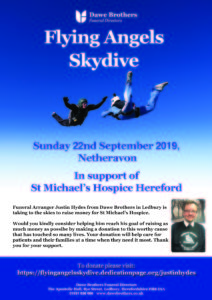 On Sunday 22nd September Funeral Arranger Justin Hydes from Dawe Brothers in Ledbury will be taking to the skies to raise money for St Michael's Hospice.
We really admire Justin for taking on this challenge, every penny counts, and your donation will help care for patients and their families at a time when they need it most.
St Michael's Hospice in Hereford was founded in 1984 and is committed to providing specialist palliative care and support for patients with terminal illnesses and their families in the community.
Thank you for your support