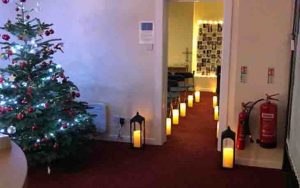 Christmas is a time to for friends and family to come together in celebration, it can also be a difficult time of the year for those who have lost a loved one.
To help their families at this difficult time the team at Richard Lloyd Funeral Services held a memorial service, the first to be held in the funeral home.
The team arranged for a memorial wall along with readings, blessings, carol singing and food & drink, it was a chance for those who have suffered a loss to meet other families in the same situation and spend a little time in reflection and friendly conversation.