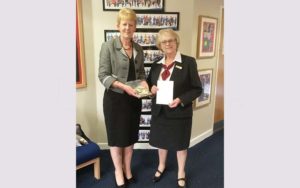 The team from Wakefield worked with a local school and children's service on some special Father's Day gifts.
Barry, Joan and David brought some blank key rings for the children at Dimple Well school which could be personalised for their dad and provided cards with a printed outline of a face for the children to colour in and write a message. These wonderfully creative and simple ideas are sure to have put a smile on many a dads face come the big day!
Whilst visiting Sunbeam Children's Centre to deliver keyrings the duo found out that they were collecting clothes for babies and children. Determined to get involved the Wakefield branch has now become a drop-off point for donations and to date three large bags have been collected.
If you would like to help call in to our Wakefield branch or visit Sunbeam Children's Centre (Lupset) 9 – 11 Lupset Crescent, Lupset, Wakefield WF2 8RH