Father's Day was special for a number of funeral homes across the Funeral Partners family, where sons and daughters have followed their fathers' footsteps into the funeral profession.
At George Steele & Son Funeral Directors in Ossett, West Yorkshire, Business Principal Richard and his father David Steele, now a business consultant, have worked together for years.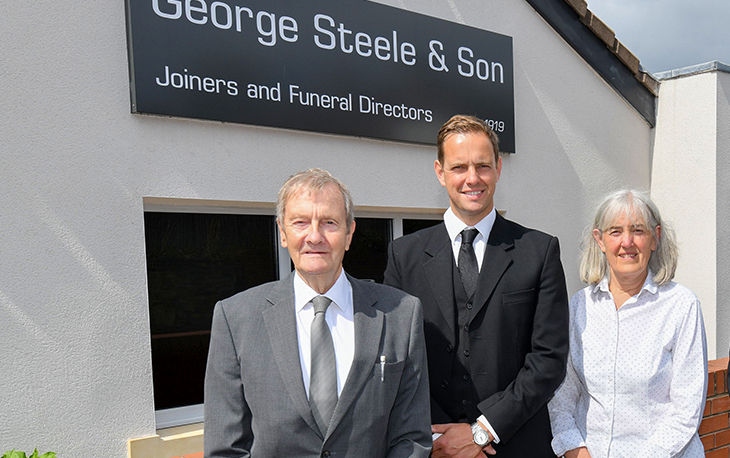 Richard was raised in the family business from an early age, which made the unique experience gained from having a father as a funeral director feel normal.
He said: "I got to visit places no other child would have, both in the joinery and funeral side of the business, I didn't really know much different."
Richard took interest in all aspects of joinery and funerals, however there was no pressure from David to follow in his father's footsteps.
David said: "After leaving school Richard went to the University of Huddersfield to study media."
However, Richard kept close to his dad by studying from home and helping out in the business wherever he could.
He explained: "My father just guided and supported me to do as much or as little as I wanted to do."
Richard decided to go full-time after graduating, so David gave him invaluable lessons about supporting the community, families and their loved ones and introduced him to industry experts.
Richard described: "Over the years my dad has taught me many valuable lessons, but one motto he stands by is 'Make haste slowly'. It means act quickly, but not so quickly that you make careless mistakes."
However, David admits the tables turned when Richard began teaching him. He said: "Richard introduced me to new methods of working and moving with the times while still keeping our basic traditions alive. This includes information technology and improved premises for both ourselves and our clients.
"Our father-son relationship hasn't changed, except instead of me guiding Richard, it's now Richard guiding me."
Following in the footsteps of his father was the first port of call for Leonard Bridge, Funeral Director at Frank Dooley & Son Funeral Directors in Merseyside, four weeks after leaving school.
Leonard's father Leslie Bridge decided to join Frank Dooley & Son shortly after losing his own dad, leaving a long career as a self-employed electrician to care for those going through similar situations.
Leonard joined the business soon after, however Leslie didn't let the close relationship with his son get in the way of Leonard's development in the funeral industry. Leonard explained: "Right from day one Dad guided me from a distance. He was very keen for me to learn and stand on my own two feet. He felt with this approach, I would gain a whole lot more experience."
The pair have found their fair share of challenges while working together, such as remembering to use each other's first names in front of colleagues and clients.
Leonard said: "One big challenge was working and living together as most fathers and sons don't always agree.
"I would say trying to stay professional and agreeing even when we didn't was very difficult. I soon learned the best way forward was to draw the line between our working life and home life."
Leonard and Leslie's relationship has strengthened as a result of their professional respect and the nature of their work.
Leonard described: "Our relationship has grown stronger and stronger throughout the many years of caring for families and working together. We have a very strong relationship as father and son."
The unique personal and professional bond Leonard shares with his dad makes him grateful for the time they're able to spend together.
He concluded: "The valuable lessons I have learned from working with my father are about life, and how much we can take for granted simple things such as going home to your family at the end of the day.
"Sadly, we sometimes hear families say, 'If I could just have one more day'. Making every second count, treasuring every smile, and helping one another are the most precious things anyone can do."
Leonard is now pleased to see his nine-year-old son showing great interest in joining the business, which he certainly hopes to encourage.
Success of James Brown & Sons lies in family succession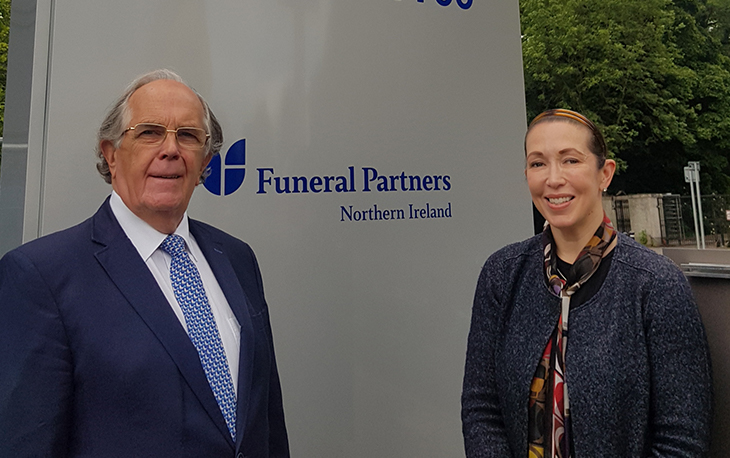 James Brown knew from an early age that he wanted to follow in his father and grandfather's footsteps and work in the family funeral business in Belfast.
But his children, Beverley, and James, opted to follow their own paths and established successful careers in London.
James, who at 75 is still the well-known face of James Brown & Sons Funeral Directors, said: "I was happy for my own children to follow their own paths as I had a number of cousins in the business with me."
But he was proud and happy when, some ten years ago, Beverley returned to Belfast and took the opportunity to join the business.
Beverley explained: "I remember as a wee girl going down the yard and being round the office with dad.
"When I was growing up, I had no inclination that I would end up in the funeral business. But when Dad told me there was an opportunity to join the business, even though I had never worked in it, it was a very familiar environment for me."
Beverley had risen to a commercial sales management role in retail and was soon bringing her forward-looking skills to the business. James explained: "We always get on, although sometimes she is looking forward while I'm at the stage when I still look back."
However, Beverley is full of praise for her father: "I enjoy working with dad. His life is his work and always has been and I really admire him for his capacity to embrace change.
"As he has got older, his willingness and enthusiasm to help other people and particularly young people in the community in east Belfast is amazing."
Beverley works as a consultant, supporting the community work of the six James Brown & Sons funeral homes, which extend beyond Belfast to Dunmurry, Dundonald and Newtownabbey.
Since joining the Funeral Partners family late last year, James Brown & Sons has faced the unprecedented changes brought about by Covid-19.
Having been advised to shield because he is in the vulnerable age group, James Brown spent 10 weeks away from the business for the first time in his working life. Now he is back, working with Beverley and Funeral Partners to support local families, following his own family's traditions since 1904.