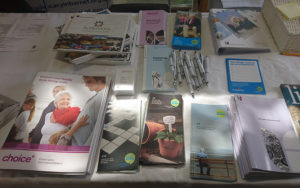 MM Broad attended an event hosted by the North London Hospice and Barnet Clinical Commissioning Group .The event took place on 15th May at the Barnet Wellbeing Hub and explored end of life care and how to raise awareness across diverse communities. There were also performances from members of Chickenshed Inclusive Youth Theatre who performed a moving dance piece, Fine Mess Theatre's ' A Wake in Progress,' a modern play about death, and from a learning disability perspective, "A Short Film about Death and Dying" introduced and presented by members of the "Baked Bean Company" sharing their personal views and experience.
Kelly said: " We had an information stall and were able to give out practical advice and information. During lunch four tables were placed in the middle of the room, each with a different subject and people could decide what appealed to them to discuss. We were able to lead the discussion on planning a funeral.
There was also an excellent speech from Palliative Care Nurse Jo Brady who talked about death and advanced care planning. All in all the day was thoroughly informative and we would be delighted to take part next year."
Contact the team at MM Broad today if you have questions about any aspect of funerals or funeral planning.