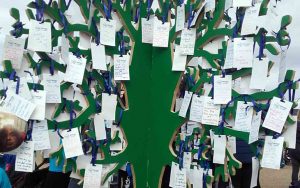 Bushbury's Funeral Arranger, Debbie Ralph, has raised almost £300 for the Alzheimer's Society after taking part in the first Blackpool Memory Walk in memory of her dad.
The Alzheimer's Society is the only UK charity investing in research into dementia care, cause, cure and prevention.
Debbie, her husband and her daughter joined over 2,500 people who walked five miles in memory of loved ones, following a route along the Promenade from the Comedy Carpet outside Blackpool Tower to the Glitter Ball at South Shore.
Debbie said: "My dad spent many happy times in Blackpool where his brother still lives, and this is why I chose to do the walk there.
"Thank you to everyone who sponsored me. I am so proud of the money we raised and I will definitely be doing the walk again next year."