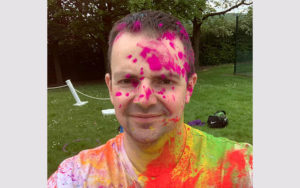 Martin Coates, Funeral Director with Graham j Clegg Funeral Service in Maghull took part in a 5k colour run in aid of two charities, the Accrington Lions, of which Martin is a member and Sunflower Children's Hospice.
Sunflower Children's Hospice is a non-profit organisation providing care for children with life-threatening and life-limiting conditions.
Martin said: "Sunflower Children's Hospice is a charity close to our hearts as a family, as my late Mother-in-Law was one of the first trustees of the Hospice which is based in Bloemfontein, South Africa."
Accrington Lions is one of over 850 Lions Clubs in the UK, serving the community of Hyndburn and are involved in many community events. The funds raised for the Lions Club from the colour run will be used for local causes such as their annual Christmas toy appeal.
Also in attendance were representatives from local charities who had stands to raise awareness of their work and to raise funds and local small businesses such as craft stalls. The Lions Club were able to give a donation to each of the charities who attended.
Martin said: "In total, we raised £60.00 on the day for the two charities and my 5year old son took great delight in covering me with the paint so all in all we had a great day."