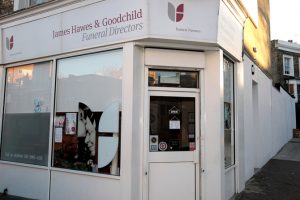 The entire team at James Hawes & Goodchild Funeral Directors has been celebrating Hackney's heritage at the 2017 Well Street Against Racism street party.
The Well Street branch helped to fund family activities at the event, including an Albion Kids Show pirate ship and soft play, to ensure young people in the neighbourhood had a really fun day.
The street party, held on 20th August, attracted 4,000 people including The Mayor of Hackney, with visitors enjoying DJ's, live music, stalls and an enormous variety of food and drink. The event celebrated the borough's diverse heritage, as well as raise money for charities Hackney Quest and the Refugee Council of Great Britain.
The street party was launched last year after residents saw an overnight rise in racist attacks following the Brexit outcome. Locals decided to put on a peaceful and upbeat event to try and tackle the negativity within the community and it had an overwhelmingly positive response.
Funeral Arranger/Administrator Kevin Avery said: "We are incredibly proud to have been able to support such a great day, which truly brought everyone together.
"We hope that the street party will become an annual event to give the entire borough the opportunity to raise money for local charities and continue to celebrate our wonderfully diverse community."