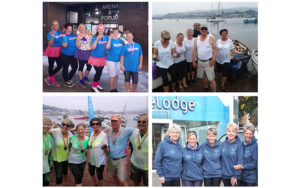 Funeral Director Caz Denning made sure 2019 was all about giving back when she pledged to take part in three fundraising activities for Rowcroft Hospice.
Rowcroft Hospice supports adults living with life-limiting illnesses in South Devon. Rowcroft are a charity and more than 70% of their funding comes from the donations from the local community.
Caz's first fundraising challenge was the Colour Row which took place on June 23rd. The event is not too dissimilar to the Colour Run but takes place on the water involving lots of people in boats  rowing in the harbour whilst being pelted by paint!
Caz then got her glow on to take part in the ninth annual Sleep Walk for Rowcroft Hospice on Saturday 6 July. Joined by regional colleagues they were amongst hundreds of women taking part in the sponsored night walk, choosing a five or ten-mile route. The glitter army completed the 5 mile walk in the evening, setting off at 8.15pm, with the added bonus of being able to watch the sun set over the bay as they walked. Even with stops for water (and the temptation of a free gin bar!!) the girls completed the course in just over 2 hours.
The third and final challenge was taking part in the Great River Race in London which involved rowing 26 miles down the River Thames.
Caz said: ' I completed the row with my team mates Chris, Angie, Susie and Carla.  We row together regularly out of Shaldon and have rowed together for many years
We did it in 3 hours 21 minutes which was amazing for us (as ladies of a certain age).  All in all with the three events, I have raised just over £630.00 for the hospice which I am really pleased with.'