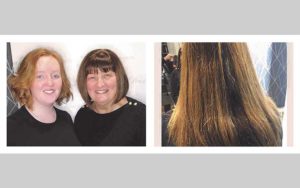 Delia Fletcher, Learning and Development Manager at Funeral Partners, donated her long locks to children dealing with hair loss after being inspired by a young girl in her Girlguiding unit.
Elle, age 10, was desperate to join the 7th Tyldesley Guide unit after recovering from a two-year battle with cancer, having spent much time in hospital where she rarely met children her age.
Girlguiding Leader Delia was so impressed by Elle's courage that she donated her hair and raised funds for Little Princess Trust, the charity creating real wigs for young people with hair loss.
Delia said: "Elle was understandably quiet upon joining Girlguiding, having been away from children her age for so long. But after a few months, she settled in. She now joins in with all our activities from cooking to first aid and is preparing for her first camping trip in May."
Delia was originally growing her hair to play one of the seven dwarves in a Snow White pantomime with her local church, St Ambrose Barlow, along with colleague and Elle's nan Angela Worrall, Area Development Manager for Funeral Partners in Merseyside.  It was at this point Angela told Delia about the 10-year-old's desire to join the Tyldesley Guide unit, where Angela is Assistant Guide Leader.
Delia said: "Since joining, Elle has become such a lovely member of the unit and I wanted to help other children like her".
"I had already grown my hair for the pantomime, so I decided to let it grow more, have it cut it off and help create wigs for children facing similar situations."
Delia set up a fundraising page and spread awareness through Facebook, raising £545 for the Little Princess Trust by the day of her haircut.
Fellow Girlguiding helper Catherine Dootson was then inspired by Delia to arrange her own Little Princess Trust haircut, which raised an additional £375 for the charity.
Wendy Tarplee-Morris, a Co-Founder of the Little Princess Trust, was delighted to hear of Delia's efforts. She said: "We can only continue giving real hair wigs to children and young people thanks to the generosity of people like Delia.
"It costs us £550 to provide a real hair wig to a young person so the fundraising will also be a huge help for someone at a very difficult time in their young life.
"It's great to hear of Elle's recovery and I hope she has a wonderful time enjoying many great experiences in the Girl Guides."