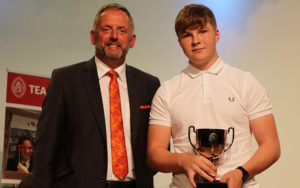 Former Richmond School student Olly Reynolds has been awarded a trophy and a £250 bursary which recognises his professional and proactive approach to securing a joinery apprenticeship.
Olly was one of 15 Richmond School students gaining apprenticeships and his school selected him for the John Blenkiron Memorial Apprenticeship Award for his determination and resilience in gaining his apprenticeship with a joinery in Darlington.
The award was presented in memory of the founder of John Blenkiron & Sons Funeral Directors by his son and current Business Principal James Blenkiron.
The Blenkiron family originally established their business as a joiners and undertakers, with John Blenkiron – following in his father and grandfather's footsteps – founding John Blenkiron and Sons over 50 years ago to serve the communities of North Yorkshire and County Durham.
Former Richmond School student James Blenkiron said: "My dad believed apprenticeships were very important and took on several apprentices in the joinery side of the business over the years. I am pleased and proud to sponsor this award in his memory."
The annual award was established in 2014 and recognises the achievement of one young person at the school who has gone on to an apprenticeship, with the £250 bursary supporting the winner to purchase any necessary equipment for their apprenticeship.
Headteacher of Richmond School, Jenna Potter, said: "We are grateful to John Blenkiron & Sons and Funeral Partners for their continued support."