Funeral Floral Tributes: What Are Your Options?
When planning a funeral, there is lots to think about, and flowers are often high up on the list of considerations. Flowers can represent a connection to the ones you've lost, in a way that's both memorable and beautiful.
Choosing the appropriate floral tribute allows you to express your feelings, which can help with the grieving process. But how do you choose the perfect floral tribute? What options are available to you? And how do you organise funeral flower arrangements? This is our short guide to floral tributes.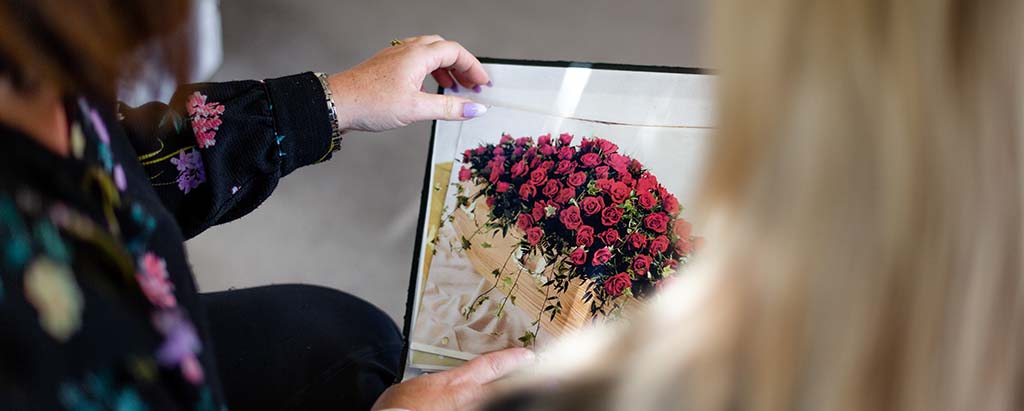 The meaning behind a floral farewell 
At funeral services, flowers act as an important visual expression of emotion. For generations, they've helped us show sympathy, respect and love towards the ones we have lost. Today, this long-standing custom still forms an important part of funeral services. And with more options available than ever before, choosing the perfect flower arrangements requires careful consideration.
What are your options?
The options available to you depend on several factors, like the type of funeral, your relationship to the deceased, and whether you're sending funeral flowers or organising them yourself.
Funeral wreaths
With a circular shape to symbolise unending love and eternal life, funeral wreaths are a popular and traditional choice. They offer a beautiful way of offering your condolences and are a powerful symbol of hope at a difficult time.
Bespoke
For a more personal tribute, you might consider a bespoke floral arrangement for your loved one. Something created especially for them to reflect who they were, their passions or hobbies. An arrangement as unique as them can make for a special goodbye.
Coffin sprays
Sprays or sheaths are the perfect alternatives to regular bouquets. They come in a variety of styles, can be double-ended (sometimes known as Casket Sprays) or single-ended, and because they're designed flat, they can be laid down alongside the coffin or graveside.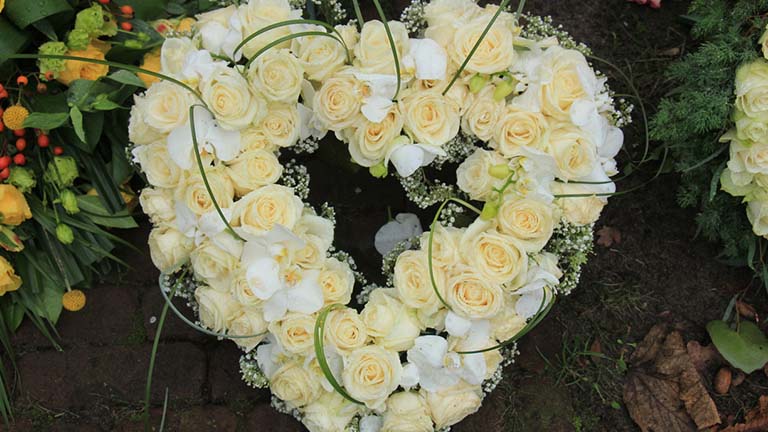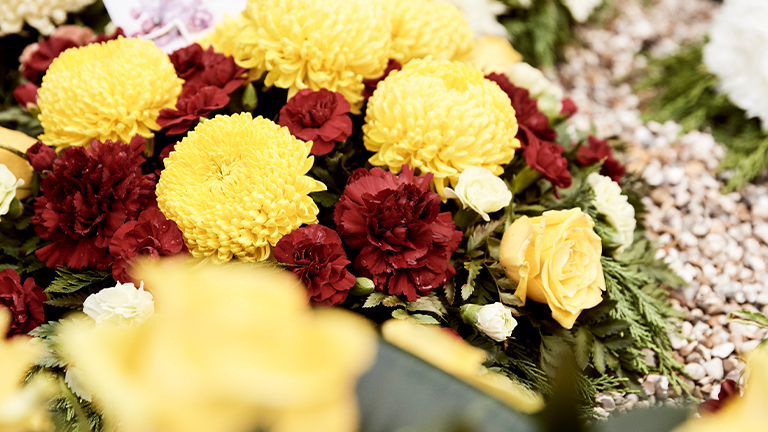 Single flowers
Using a single stem rose on the coffin, or petals scattered into the grave, can make for a beautiful and moving use of flowers. You can choose from a wide variety of roses or petals.
Letter tributes
Flowers adorned in the shape of letters or numbers can form a floral centrepiece to any ceremony and tend to be dedicated to a particular family member. These displays usually travel with the hearse and are displayed in the window.
Sympathy flowers
If you are attending a funeral service, you may want to send sympathy flowers but before you do, make sure you check that the family are accepting them. And if you're unsure of the type of flower to send, you can speak to your local funeral director or florist; they will be able to advise you on the most appropriate option.
Consider colour and type of flowers
Colour is an important part of any funeral flower arrangement. It sets the tone of the ceremony, with white popular for its symbolic association with peace and reverence. The type of flower bears equal importance, with lilies and white carnations a popular choice to represent love and innocence.
How to get started
If you're planning a funeral tribute, we'd advise you speak to your funeral director to discuss your options. You can also read our guide on funeral tributes and donations. For the florists working on your arrangements, it's important they have a clear idea of your requests, so take your time and think carefully about the floral tribute you'd like for your loved one's ceremony. Florists are well acquainted with floral tributes so they can help you navigate your options and provide very helpful advice if you're ever unsure.
Our partners Interflora offer a wide variety of elegant floral arrangements; perfect if you're planning a floral tribute or gifting sympathy flowers. Separated into arrangement type, colour, and content, the Interflora website is easy to navigate. Whether you'd like to see the options available and order your funeral flowers online, or simply browse for a little inspiration, we recommend visiting.
For more support following the death of a loved one, or for help arranging a funeral, contact your local funeral directors.
Further Reading: Cost of a funeral
Find out about funeral costs and what financial support could be available.